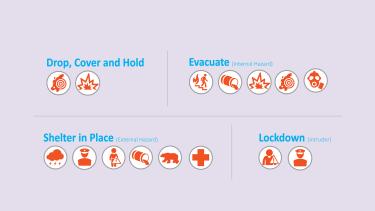 Procedures
Emergency Procedures
In the event of an emergency, schools can be placed under one of four 'emergency actions' or statuses to ensure the security and safety of students and employees: 
Drop, Cover and Hold 
Evacuation
Shelter in Place
Lockdown
Reasons for such closures could include bomb threats, gas leaks, fire, smoke, power failure, extreme weather situations, earthquakes and other causes that may endanger students and staff. Our Emergency Procedures are put into place by either a school administrator (Principal, Vice-Principal, or if neither available, the Teacher-in-Charge), Assistant Superintendent or the Superintendent. The Superintendent is responsible for all decisions relating to school closures. Information regarding each level of emergency status is listed in our Administrative Procedure 103 - Emergency Procedures. Procedures are practiced at each school at multiple times through the year. In all scenarios, special considerations are to be taken by teachers and supervisors for the care and evacuation of students with special needs.
Notifications of emergency status will be circulated via: