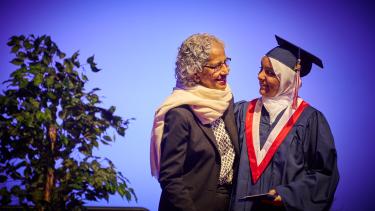 Strategic Plan
Preparing Students for Success
In alignment with the B.C. Ministry of Education's Framework for Enhancing Student Learning, our district has developed a Strategic Plan to outline the steps we are taking to fulfill our vision. Our 2020-24 Strategic Plan, developed in consultation with our stakeholders, sets the direction for every departmental and operational plan. The plan is comprised of the four key pillars - Student Success, Optimized Resources, Engaging Opportunities and Progressive Workforce.
Fundamentally the Board of Education is committed to ensuring that each staff, regardless of where they serve in the organization, is clear about the important contributions they make towards student success. It is for this reason that this Strategic Plan is designed to create a clear "line of sight" to the district vision. Just as every student is important, every employee's contribution is vital to student success.
 
2020-2024 Strategic Plan
Students are our top priority. Our students will be engaged, challenged, and prepared for a lifetime of success.
Our Goals:
Improve early learning.
Increase student achievement and inquiry.
Increase graduation success.
Financial stewardship will guide our decision making. We will be creative and responsible in the management of our educational resources.
Our Goals:
Improve fiscal stewardship and transparency.
Increase stakeholder input into the development of the annual budget.
Improve the condition and performance of district facilities.
We'll be listening and watching. We will provide engaging opportunities for every member of our organization to contribute to student success.
Our Goals:
Increase parent and community engagement.
Improve ethical and innovative use of technology.
The more we learn, the more we grow. We will provide a workplace that fosters creativity, inspires excellence, and challenges everyone to embrace growth.
Our Goals:
Increase employee performance and engagement.
Achieve excellence in teaching.
Enhance leadership excellence.
Improve organization health.
---
Measuring our Progress
Our Measuring Up report highlights progress on the following goal areas: literacy, numeracy, student well-being, careers and graduation. Data included in this report comes from the Ministry of Education and Child Care and includes:
Foundation Skills Assessment from 2018/2019 to 2022/2023
Graduation Assessment from: Grade 10 Literacy from 2019/2020 to 2021/2022 Grade 10 Numeracy from 2019/2020 to 2021/2022
Student Learning Survey from 2019/2020 to 2021/2022
6 Year Dogwood Completion Rate from 2018/2019 to 2021/2022
Transition to Post-Secondary from 2017/2018 to 2020/2021